Welcome to Fina Trust Microfinance Bank
Banking that
reflects the way you
live your life.
We offer a whole range of individual products and services designed for people that have both varying and specific needs.
ABOUT US
Loan Application Process
Follow our easy steps to getting a loan.
Open an account

Run the account and deposit 20% of the proposed loan facility.

Apply for loan

Fill the loan application form and meet all requirements.

Loan Disbursed

Your loan request is taken for approval and then disbursed.
Calculate your repayment plan
IBRAHIM ILAYMS

I am Ibrahim Ilayms; the MD/CEO of Sinclair Logistics Limited. I can confidently say, Fina Trust MFB has always been there for me. The bank has been part of my success story. In the year 2017, I started a relationship with Fina Trust MFB by accessing an SME loan to expand my logistics business.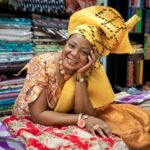 OLUWATOYIN ADERIBIGBE

I am Mrs. Toyin Aderibigbe; the MD/CEO of Arah Exclusive Clothing and Attires. I am very proud to have Fina Trust Microfinance as my own number one Banker in Nigeria. They helped me finance my clothing businesss from the scratch and the business has experienced tremendous growth since inception.